Cтягнення активів у дохід держави в результаті визнання їх необґрунтованими: прихований вид покарання?
Ключові слова:
необґрунтовані активи, покарання, конфіскація без обвинувального вироку суду, цивільна конфіскація, незаконне збагачення
Анотація
Ця стаття має на меті з'ясувати, чи слід вважати покаранням стягнення активів у дохід держави внаслідок визнання їх необґрунтованими. З огляду на іноземне походження такого правового механізму та те, що досліджуваний вид стягнення був запроваджений в українське законодавствот не так давно, використана методологія охоплює як аналіз чинного законодавства та досліджень українських учених, так і напрацювання іноземних науковців та практику Європейського суду з прав людини. Проведений аналіз дав змогу оцінити, наскільки процедура, суворість, природа і цілі стягнення активів у дохід держави внаслідок визнання їх необґрунтованими збігаються з процедурою, суворістю, природою та цілями, характерними для покарання. Отримані результати свідчать про те, що таке стягнення не можна вважати покаранням ні за правом Конвенції про захист прав людини і основоположних свобод, ні відповідно до національного права, адже, окрім іншого, воно не передбачає доведення чи спростування фактів вчинення будь-якого правопорушення або зв'язку активів з будь-яким правопорушенням і не має на меті кари та запобігання вчиненню інших правопорушень. Зважаючи на засадничий характер досліджуваного питання в контексті його конституційного оскарження та відсутності практики застосування такого стягнення в Україні на момент написання цієї статті, результати дослідження мають як теоретичне, так і практичне значення.
Посилання
Alekseev, S. S. Obschie dozvoleniya i zapretyi v sovetskom prave [General permission and the general prohibitions in Soviet law]. Moscow: Yuridicheskaya literatura, 1989 [in Russian].
Antoniuk, O. I. "Problemni pytannia vyznannia aktyviv neobgruntovanymy ta yikh vytrebuvannia" ["Problematic issues of declaring assets as unjustified and its recovery"]. In Zapobihannia ta protydiia koruptsii v Ukraini: materialy kruhloho stolu (Vinnytsia, 8 chervnia 2018 r.) [Prevention and counteraction of corruption in Ukraine: materials of the round table (Vinnytsia, June 8, 2018)]. Vinnytsia: Vasyl Stus DonNU, 2018 [in Ukrainian].
Antoniuk, O. I. "Zakhyst prava vlasnosti u konteksti zaprovadzhennia protsedur shchodo vyluchennia maina, vyznachenoho neobgruntovanymy aktyvamy" ["Protection of property rights in the context of the introduction of procedures for the forfeiture of the property identified as unjustified assets"]. Scientific Bulletin of Kherson State University. Series: Legal Sciences 3, Vol. 1 (2017): 72–7 [in Ukrainian].
Boucht, Johan. "Civil Asset Forfeiture and the Presumption of Innocence under Article 6(2) ECHR." New Journal of European Criminal Law 5, no. 2 (June 2014): 221–55. https://doi.org/10.1177/203228441400500206
Boucht, Johan. The Limits of Asset Confiscation: On the Legitimacy of Extended Appropriation of Criminal Proceeds. Oxford: Hart Publishing, 2017. https://doi.org/10.5040/9781509907106
Boucht, Johan. "Asset confiscation in Europe – past, present, and future challenges." Journal of Financial Crime 26, no. 2 (April 2019): 526–48. https://doi.org/10.1108/jfc-04-2018-0043
Bowles, Roger, Michael Faure, and Nuno Garoupa. "Economic analysis of the removal of illegal gains." International Review of Law and Economics 20, no. 4 (December 2000): 537–49. https://doi.org/10.1016/s0144-8188(00)00049-1
Filatova, N. Yu. "Novely zakonodavstva Ukrainy shchodo konfiskatsii maina: porivnialno-pravovyi analiz" ["Novelties of the legislation of Ukraine on confiscation of property: comparative legal analysis"]. In Materialy naukovo-praktychnoi konferentsii, prysviachenoi 94-y richnytsi z dnia narodzhennia doktora yurydychnykh nauk, profesora, chlena-korespondenta AN URSR V. P. Maslova [Proceedings of the scientific-practical conference dedicated to the 94th anniversary of the birth of Doctor of Law, Professor, Corresponding Member of the Academy of Sciences of the USSR VP Maslov], 233–7. Kharkiv: Pravo, 2016 [in Ukrainian].
Greenberg, Theodore S., Linda M. Samuel, Wingate Grant, Larissa Gray. Stolen Asset Recovery: A Good Practices Guide for NonConviction Based Asset Forfeiture. Moscow: Alpina Publisher, 2010 [in Russian].
Hloviuk, I. V. "Pozovne provadzhennia u spravakh pro vyznannia neobgruntovanymy aktyviv ta yikh vytrebuvannia i «kryminalna spetsialna konfiskatsiia»: pytannia koreliatsii" ["Litigation in cases of declaring assets unjustified and their forfeiture and criminal special confiscation: the question of correlation"]. In Reformuvannia tsyvilnoho protsesualnoho prava v umovakh intehratsiinykh protsesiv v Ukraini: materialy Vseukrainskoi naukovo-praktychnoi konferentsii im. Yu. S. Chervonoho (Odesa, 16 lystop. 2018 r.) [Ukrainian scientific-practical conference named after Yu. S. Chervonyi (Odesa, 16, November 2018)], ed. N. Iu. Holubieva. Odesa: Feniks, 2018 [in Ukrainian].
Hryshchuk, V. K. Naukovo-praktychnyi komentar Kryminalnoho kodeksu Ukrainy [Scientific and practical commentary on the Criminal Code of Ukraine]. Ed. M. I. Havroniuk, M. I. Melnyk. 9 edition. Kyiv: Yurydychna dumka, 2012 [in Ukrainian].
Khavroniuk, M. "Spetskonfiskatsiia: pokarannia bez vyroku sudu, abo pokarannia bez zlochynu" ["Special confiscation: punishment without a conviction, or punishment without a crime"]. Legal Bulletin of Ukraine 1-2 (2017): 4–5 [in Ukrainian].
Khutor, T. M. Tsyvilna konfiskatsiia neobgruntovanykh aktyviv kriz pryzmu zakhystu prava vlasnosti [Civil confiscation of unjustified assets through the prism of protection of property rights]. Kyiv: RED ZET, 2020 [in Ukrainian].
Khyliuk, S. V. "«Zlochyn i kara» u Konventsii pro zakhyst prav liudyny i osnovopolozhnykh svobod" ["«Crime and Punishment» in the European Convention on Human Rights"]. Journal of the Academy of Advocacy of Ukraine 8, no. 4 (2015): 108–25 [in Ukrainian].
Mamnytskyi, V. Yu., and A. L. Lebedieva. "Prediavlennia pozovu pro vyznannia neobgruntovanymy aktyviv ta yikh vytrebuvannia: nadane zakonom pravo chy pomylka zakonodavtsia" ["Filing a lawsuit to declare assets unjustified and recovery: a right granted by law or a mistake of the legislator"]. Journal of Eastern European Law 67 (2019): 51–8 [in Ukrainian].
Maugeri, Anna Maria. "The Criminal Sanctions against the Illicit Proceeds of Criminal Organisations." New Journal of European Criminal Law, 3(3-4) (September 2012): 257–97. https://doi.org/10.1177/203228441200300304
McBride, Jeremy. European Convention on Human Rights and criminal procedure. Kyiv: KIS, 2010 [in Ukrainian].
Navrotskyi, V. O., editor. Ukrainske kryminalne pravo. Zahalna chastyna [Ukrainian criminal law. General part]. Kyiv: Yurinkom Inter, 2013 [in Ukrainian].
Panzavolta, Michele. "Confiscation and the Concept of Punishment: Can There be a Confiscation Without a Conviction?" In Chasing Criminal Money: Challenges and Perspectives on Asset Recovery in the EU, edited by Katalin Ligeti and Michele Simonato, 25–52. Oxford: Hart Publishing, 2017. https://doi.org/10.5040/9781509912087.ch-001
Rabinovych, P. M. "Fundamentalni poniattia kryminalnoho prava: interpretatsiia Strasburzkoho sudu" ["Fundamental concepts of criminal law: the interpretation of the Strasbourg court"]. Yurydychna Ukraina [Legal Ukraine] 11 (2011): 4–7 [in Ukrainian].
Rui, Jon Petter, and Ulrich Sieber. "Non-Conviction-Based Confiscation in Europe: Bringing the Picture Together." In NonConviction-Based Confiscation in Europe: Possibilities and Limitations on Rules Enabling Confiscation without a Criminal Conviction, edited by Jon Petter Rui and Ulrich Sieber, 245–304. Berlin: Duncker & Humblot, 2015. https://doi.org/10.30709/978-3-86113-809-9
Simonato, Michele. "Confiscation and fundamental rights across criminal and non-criminal domains." ERA Forum 18, no. 3 (September 2017): 365–79. https://doi.org/10.1007/s12027-017-0485-0
Skulysh, V. Ye. "Problema teoretyko-metodolohichnoho spivvidnoshennia antykoruptsiinoho ta kryminalnoho zakonodavstva" ["The problem of the theoretical and methodological relationship between anti-corruption and criminal law"]. Borotba z orhanizovanoiu zlochynnistiu i koruptsiieiu (teoriia i praktyka) [Fight against organized crime and corruption (theory and practice)] 1 (2014): 54–7 [in Ukrainian].
Slipchenko, O. S., O. V. Syniehubov, and V. A. Kroitor. Suchasni problemy tsyvilnoho prava ta protsesu [Modern problems of civil law and procedure]. Edited by Yu. M. Zhornokuy and L. V. Krasytska. Kharkiv: Law, 2017 [in Ukrainian].
Tuzov, D. O. "Konfiskatsiya poluchennogo po sdelke, protivnoy osnovam pravoporyadka ili nravstvennosti, v sudebnoarbitrazhnoy praktike i proekte izmeneniy Grazhdanskogo kodeksa" ["Confiscation of obtained under a transaction contrary to the foundations of law and order or morality, in judicial and arbitration practice and in the draft amendments to the Civil Code"]. Vestnik Tomskogo gosudarstvennogo universiteta [Bulletin of Tomsk State University] 1 (2011):36–50. http://journals.tsu.ru/law/&journal_page=archive&id=173&article_id=11695 [in Russian].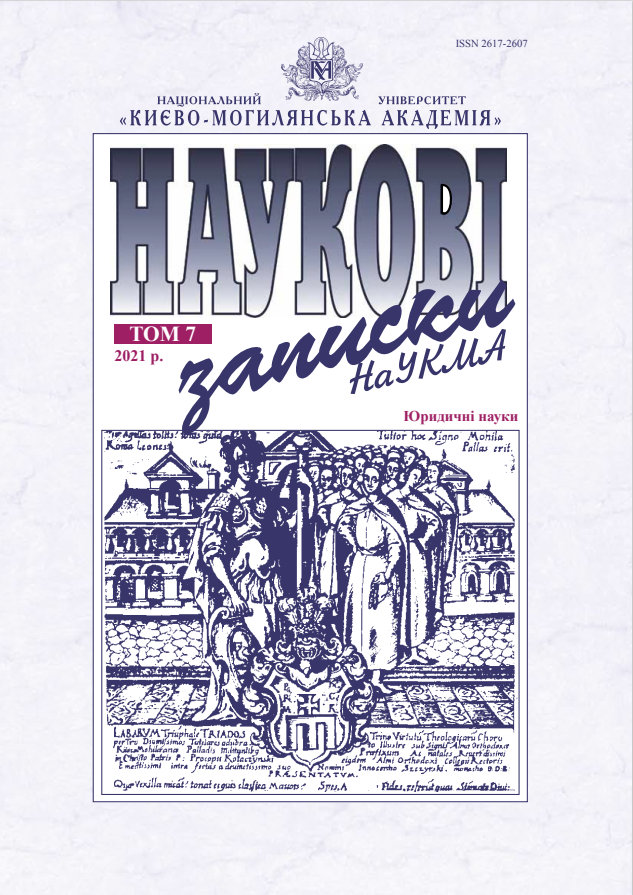 ##submission.downloads##
Ліцензія
Авторське право (c) 2021 Tetiana Khutor
Ця робота ліцензується відповідно до Creative Commons Attribution 4.0 International License.
Автори зберігають за собою авторські права на твір на умовах ліцензії Creative Commons Attribution 4.0 International License, котра дозволяє іншим особам вільно поширювати опублікований твір з обов'язковим посиланням на його авторів та його першу публікацію в цьому журналі.
Автори мають право укладати самостійні додаткові угоди щодо неексклюзивного поширення твору в тому вигляді, в якому його було опубліковано в журналі (наприклад, розміщувати роботу в електронному репозитарії установи або публікувати у складі монографії), за умови збереження посилання на його першу публікацію.
Політика журналу дозволяє розміщення авторами в мережі Інтернет (наприклад, у репозитаріях установ або на особистих веб-сайтах) рукопису роботи, як до подання його до редакції, так і під час його редакційного опрацювання, оскільки це сприяє виникненню продуктивної наукової дискусії та позитивно позначається на оперативності та динаміці цитування опублікованої роботи (див. The Effect of Open Access).